ADD TO A RELIABLE AND SAFE JOURNEY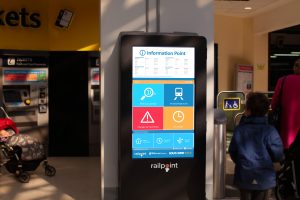 Everywhere public transportation finds new ways to become, more reliable and more efficient. Digital kiosks and dynamic guidance allows real-time updates to publish re-routes, gate and bus changes, and the support of emergency messages. Ensuring travelers stay up to date all the time and reducing load on customer service is key to any transport organization. A solid digital platform is key.
Some facts:
78% of travelers prefer to use digital kiosks
Using Infotainment perceived wait time goes down by 35%
And Customer satisfaction grows by a minimum of 46%.
"New PADS4-certification 2017 certified by the Malaysian government for use in public transport."
BOOST SHOPPING WHILE YOU'RE AT IT
A happy traveler is a spending traveler, whether it's gifts, food & drinks, electronics or the latest fashion. Digital displays have proven results to inspire and seduce.
Some facts:
Capture 400% more views then traditional signs
Boost sales by 23%
Increase brand awareness by 48% and 70% of advertisers renew their contract.
"Ads in taxis are viewed 30 times per day."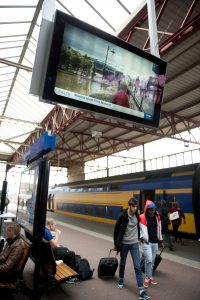 WHY PADS4?
PADS4 digital signage platform used in airports, trains, planes, busses, and taxi around the globe. Its unique data driven approach was originally designed to meet the high demands of an airport and has exceptional features:
One platform for your Information Screens (FIDS, PIDS, employment rosters), interactive kiosks and advertising screens.
Centrally manage thousands of screens allowing every screen to be updated from a single location
Easy data integration such as weather, traffic, social media feeds, news, and even up-to-date hotel booking.
Conditional maps and dynamic guidance depending on gates/platform changes or in case escalators and elevators are out of service.
See how PADS4 can improve your passenger communication and get in touch!